We respectfully acknowledge that Grand Bay-Westfield exists on the traditional Wolastoqey (WOOL-US-TOOK-WAY) land. The lands of Wabanaki (WAH-BAH-NAH[1]KEE) people are recognized in a series of Peace and Friendship Treaties to establish an ongoing relationship of peace, friendship and mutual respect between equal nations. The river that runs by our town is known as Wolastoq (WOOL-LUSS-TOOK), along which live Wolastoqiyik (WOOL-US-TOO-GWEEG) – the people of the beautiful and bountiful river. We, the staff and elected representatives, pay respect to the elders, past and present, and descendants of this land.
There is truly no place like Grand Bay-Westfield, New Brunswick. Grand Bay-Westfield is yours to explore with something for everyone – hiking, walking and cycling trails, parks, shopping, dining, golf course, splash pad, tennis and pickleball courts, sports fields, river access – and more. Our Town is a dynamic and vibrant community renowned for being Neighbours by Nature – A welcoming place for all to live, grow and thrive.
Grand Bay-Westfield is located in southwestern New Brunswick along the River Valley Scenic Drive, one of the provincially designated scenic routes. It is home to a community of approximately 5,866 residents (Wards 1 and 2).
On January 1, 2023, as part of the provincial local governance reform process, the new local government of Grand Bay-Westfield was formed. It includes the former Town of Grand Bay-Westfield (Ward 1) and a portion of the former Local Service District of Westfield West focused on areas along Brittain and Campbell Roads (Ward 2).
Municipal Heritage Trail
There's no better way to discover the history of Grand Bay-Westfield than by exploring our Municipal Heritage Trail!
Visit the Trail in-person or click on the

Trail symbols online HERE to read more about the stories of our historic riverside community.

Mayoral History
For the Mayoral history of the community, visit HERE.
Historic Places
Our Town's unique identity is deeply rooted in its people, surroundings, and rich history. Explore the historic places found in and around our Town with this interactive map.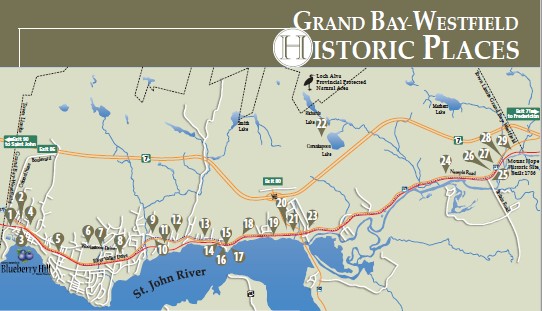 Alwington Manor
Anglican Church of the Resurrection
Black Loyalist Land Grants of 1787
Blagdon Family Homestead
Brundage Point Westfield Wharf
Doctors Office and Nursing Home
Fred Spencer Summer Home
George W. Crawford Home
Gilliland Country Store
Gyro Fresh Air Summer Camp
Jewish Summer Community
Kirtley-Hayter Family Home
Lingley Homestead
Mount Hope Cemetary
Mount Hope Farm
Nase Cemetary
Nerepis School
Old Portage Trail Head
Porter Family Home
Queen Ann Revival Summer Home
Second Empire Home
St. Augustine Roman Catholic Church
St. James Anglican Cemetary
Stagecoach Inn
Stevens Family Cemetary
Stevens Family Home
Westfield Golf & Country Club
Westfield United Church
230th Anniversary of Black Loyalist Exodus: 15 ships to Sierra Leone
2022 was the 230th anniversary year of the Black Loyalist Exodus on 15 ships to Sierra Leone recognizing that people of African descent have been a part of Canadian society since the early 1600s and that their enslavement occurred on this land for centuries. The Black Loyalists departure is linked to the failure of institutional, political and societal will to fulfill the promises that were made to the communities that left for Sierra Leone departing the harbour of Halifax in 1792.
The conditions and causes that led to the exodus of 1,196 self liberated Black Loyalists were conditions of abject institutionalized racism and that this departure took place at the height of the transatlantic chattel slave trade, one of the cruelest chapters in the history of humanity.
The 1792 Project is committed to promote histories such as the 15 Ships to Sierra Leone that often have been left in a vacuum of erasure throughout Canada. The resources provided for well known monumentation have historically been funded at the expense of those erasures.
Recognition of the anniversary strengthens and acknowledges the important role that municipalities continue to play in addressing institutional racism.
The Town of Grand Bay-Westfield recognizes the ongoing significance of the UN Decade of African Descent and the importance of recognizing the history of Black Loyalists in Nova Scotia and throughout Canada. We recognize that rural or urban, from sea to sea we share a responsibility for reparation.