The Town of Grand Bay-Westfield remains committed to its strategic priority of Community Vitality. The Town is pleased to have partnered with Sculpture Saint John for its fifth and final Symposium.
The 2022 Grand Bay-Westfield sculpture named Confidence has been installed at the Veterans Peace Park (Cenotaph). This sculpture was created and named by Sculpture Saint John sculptor, Songul Telek.
"Thank you, to all the artists and interns from around the world and regionally, for your creations. The Town of Grand Bay-Westfield applauds the dedication of Sculpture Saint John for connecting communities through public art, providing education regarding stone sculpting, and creating a Sculpture Trail for residents and visitors to enjoy." – Mayor Brittany Merrifield
On behalf of Council, Administration and the entire community – thank you to all the artists and interns, Diana Alexander – Sculpture Saint John, Maureen Boone – Grand Bay-Westfield Symposium representative, Cory Ryan – Veterans Peace Park Committee, and all volunteers.
For a listing of all Grand Bay-Westfield sculptures, visit here.

To learn more about Sculpture Saint John, visit here.
To learn more about the Town of Grand Bay-Westfield Veterans Peace Park, visit here.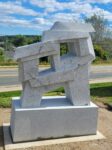 About Songul Telek: 2022 Grand Bay-Westfield sculptor
Songul is from Turkey, and graduated from the Sculpture Department of Mimar Sinan University. This is Songul's second time participating in Sculpture Saint John. Her piece, "Enthropy", created in 2018, is now part of the New Brunswick Sculpture Trail in New Maryland. She has participated in over 20 symposiums and multiple exhibits throughout Turkey, USA, Egypt, India, Romania, Syria, and the Czech Republic as well as in the Schoodic International Sculpture Symposium in 2011 creating a sculpture for Bar Harbour Maine titled "Tension."
About "Confidence": 2022 Grand Bay-Westfield Sculpture by Songul Telek
Varying in forms and themes, my sculptures have the basic compositional elements in common: tension between the units, rhythmical arrangements of masses and a balanced and harmonious overall composition. Here, neat details and crossing lines in horizontally arranged two pieces express a struggle of synchronization of the two gears. Building the confidence between two for unity.