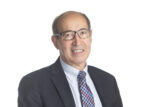 Originally from the Annapolis Valley in Nova Scotia, Jim Balcomb obtained a BSc in Chemistry from Dalhousie University where he attended under an R.O.T.P. scholarship. He later received an MBA from UNB Fredericton and took post graduate courses at the Helsinki School of Economics and International Business in Finland.
After 15 years service in the Canadian Armed Forces Regular and Reserve forces, Jim was honourably discharged and received the Canadian Decoration. Jim worked for Michelin Tires Canada in Nova Scotia in management roles in quality assurance; personnel; industrial engineering and production. He then worked in the economic development field for 30 years in both the public and private sectors at the NB Research and Productivity Council; as General Manager of the Fundy Region Development Commission; as Senior Policy Advisor at the Department of Economic Development; as Executive Assistant to the Minister of Natural Resources; and as a business consultant.
Jim has been active in his community and the Fundy Region. He was a founding director of Credit Counselling Services of Atlantic Canada; a director of Saint John Industrial Parks Ltd., the Community Business Development Corporation and of Key Industries Ltd. He is a past president of the Fundy Trail Development Authority. Jim is a former member of the Saint John Rotary Club and the River Valley Chamber of Commerce, and is a member of the Saint John Region Chamber of Commerce. Jim was a founding member of the first Farmers' Market, the first Relay for Life and the Veterans' Banner Initiative in Grand Bay-Westfield.
Jim and his wife Annemarie have lived in Grand Bay-Westfield for 23 years and have one son,who is completing his master's degree in computer science at UNBF.