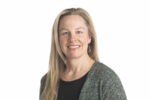 Stephanie McIntosh Lawrence is a long-time resident of Grand Bay-Westfield. She was elected to Town Council in May 2021.
A product of a small rural New Brunswick town, Stephanie earned her Bachelor of Science degree from Mount Allison University in 1993 and went on to attend the Saint John School of Radiation Therapy, graduating in 1995. She has worked as a Radiation Therapist treating cancer patients ever since with a few years in the role of Clinical Coordinator for the School of Radiation Therapy.
Active living is a passion and Stephanie has been involved in sports and physical activities her whole life. Her greatest accomplishment is finishing two Half Ironman races.
Stephanie has been active in Grand Bay-Westfield having volunteered with various organizations including:
Saint John Ambulance Pet Therapy Program,
Big Brothers Big Sisters,
Fundy Extreme Triathlon Club, and
Parent School Support Committees.
Stephanie is most proud of the life she shares with her husband, her four children, and the dogs Maple and Molly.
She loves living in Grand Bay-Westfield and feels that balanced growth, both residentially and commercially, and community involvement are key to making Grand Bay-Westfield a place where people want to live and raise their families.
Stephanie is extremely organized, efficient and hard working and is excited to roll up her sleeves and get to work representing the best interests of Grand Bay-Westfield and all its residents.