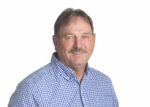 The Grand Bay-Westfield area is home to me; I was raised on family produce farm in Oak Point with 11 siblings.
With nearly 40 years experience being self employed, I understand what it is like to own and operate a business in Grand Bay-Westfield and the Saint John region.
One of the best decisions I made was moving to Grand Bay-Westfield with my wife and children 20 years ago; we live in a wonderful community!
This is my second term on town council.  I have spent the past five years as a Board Member for the River Valley Community Centre. During my first term on council, I supported:
Healthy growth and development, and
Recreational improvements and community events, especially for our youths and seniors.
During my second term, I will continue to support these important goals. I will also continue to work hard for our community, while keeping the best interests of the citizens of Grand Bay-Westfield in mind.
A dedicated family man who enjoys spending most of my spare time with my wife, our three children, our four beautiful grandchildren and soon our fifth grandchild, is the best way to describe me.
I want to see Grand Bay-Westfield grow and prosper for all of us.