Check back here for the 2022 Fire Prevention Week Contest

2021 Fire Prevention Week Contest
Residents of Grand Bay-Westfield are invited to enter the 2021 Fire Prevention week contest to win one of two Fire Safety Prize packs. Each pack consists of a fire extinguisher, two smoke alarms and more.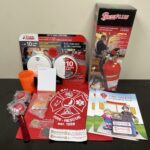 To enter please select the link below to answer three fire safety questions.
Not sure of the answer? Visit the Fire Prevention Week education page :
Entries will be accepted until 11:59 p.m. Sunday, October 9, 2021.
Contest open to residents of Grand Bay-Westfield only.