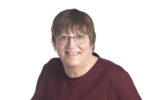 As of May 2021, Bev has been on council for 20 years. She has served on the Age-friendly committee, EMO Director, Planning Advisory Committee (PAC), Pro Kids, and the Conflict Resolution Committee of UMNB.
Before retiring Bev was a Dietitian/Food Service Manager in public health facilities. Currently, Bev is following her passion as a fibre artist in her quilting. She is well known as BeBe the clown and most recently as Chef Bev teaching children to cook before COVID-19 struck.
Mike is her long-suffering husband and they are kept busy by their 3 girls of the 4 legged type; Maggie, Callie and Koko.